China CANATURE HUAYU factory is a company specializing in the production of anti-corrosion chemical equipment - glass fiber reinforced plastic water tank integrating research, development, production and sales. A professional water treatment products manufacturer Huayu is founded in 1995.In 2009, we established Huayu Jieming through collaboratingwith Dubai Jieming in 2009.We went into operation in Dongguan in 2012.
ln 2014,we collaborated with Shanghai Canature and purchased Langfang Hebei factorytogether.We move forward and have outstanding achievements in South.North and MiddleChina,even in overseas market.
ln recent 20 years, we have been engaged in production,manufacture and marketing ofwhole series of FRP pressure tank with support and care from various circles of society andhardworking of the staff.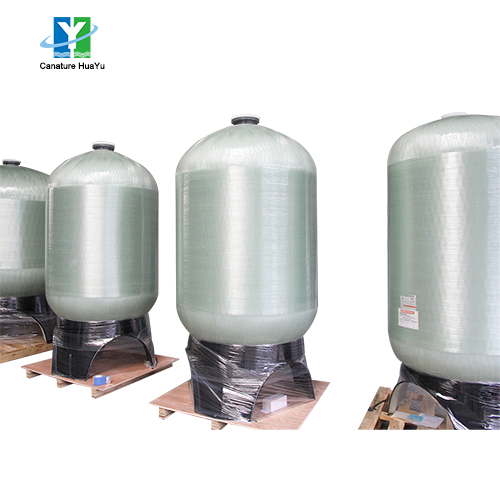 It has the first expert team in China to conduct research and production of Chinese-style rotating plastic products. It has 11 national invention patents and utility model patents. It is the largest production equipment for drum tanks and rotating plastic products in China. The production level, scale and product quality are in a leading position among domestic counterparts. With an annual output of 100,000 cubic meters of rolling container production capacity, the cumulative user exceeds 2,000. Owns the Research Institute of Rotary Plastics Technology - Wuxi Xinkaikang Rotary Technology Research Institute.
Product and service
At present, the company can produce vertical, desktop, special-shaped and various styles of the whole plant, steel-plastic composite oil storage tanks, water tanks, transportation tanks and various special tanks, a total of 8 series and 32 varieties of about 150 kinds. It has an annual production capacity of 100,000 cubic meters of rolling containers. The scale and product quality are in a leading position among domestic counterparts, and have contributed to the reform of ChemChina's plastic piggy bank and the development of ChemChina.
Product registered trademark - CANATURE HUAYU oil storage tank: non-welding plastic water tank, automobile transportation water tank, ship transportation oil storage tank and other series of products adopt the one-time model of international advanced roll forming technology, and the whole is formed at one time, with no welding, impact resistance, Anti-aging, light weight, non-leakage, acid resistance, long life, hygienic standards, etc. The use performance is obviously better than that of traditional FRP containers, PP and PVC welded containers, steel-lined rubber and steel-lined glass containers, and the life and impact force are more than twice that of ordinary FRP containers, and can replace stainless steel, nickel, and titanium in a considerable range. and other metal containers. It is the most ideal new generation of high-efficiency chemical liquid anti-corrosion storage equipment today, and the price is also cheap. Products are widely used in chemistry, dyes, medicine, pesticides, metallurgy, rare earth, machinery, electricity, electronics, environmental protection, textiles, brewing, food, water supply, drainage and other fields.